• Emme Christenson • Homemade Fudge sold in a rotating selection of 162 flavors • Lisa Loucks Christenson • Lisa Loucks Christenson exclusive books • Loucks Studios Inc. • Peacock Books & Wildlife Art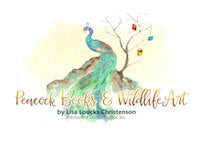 Peacock Books & Wildlife Art by Lisa Loucks Christenson maintains a curated section of indie authors, Rochester, Minnesota and regional authors. 

Peacock's showroom walls display Lisa Loucks Christenson's wildlife photos and art Lisa created from her documentaries. Lisa's wildlife photos, art, select books and ebooks, art cards are sold exclusively through Lisa's stores.

Coming soon: fantasy art by Lisa's daughter, Emme Christenson, a published fantasy artist, and art student. 

Peacock sells a selection of her families homemade fudge, made in over 162 flavors, a rotating selection. 

Copyright © 1972-2023 Lisa Loucks-Christenson. All Rights Reserved Bow Wow Detectives™, Bow Wow Detectives Agency™, A Bow Wow Detectives Cozy™, Bow Wow Detectives Case Files™ are established legal trademarks with multipile bestselling and award-winning titles. Lisa Loucks-Christenson holds the copyrights and is the original creator of these brands, characters, and series; developed in 2005 and used in commerce since 2009. Published by special arrangement with various publishers, and Story Antics®, an Australian registerd trademark owned by Lisa Loucks-Christenson. ALL RIGHTS RESERVED. There are underlying copyright interests in the various works of authorship associated with this registered trademark. Bow Wow Detectives, is a legal trademark.