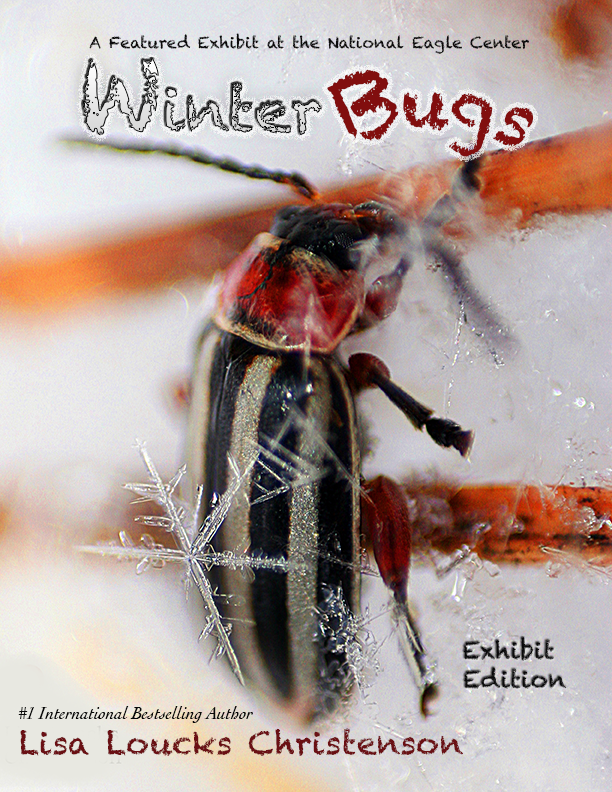 Winter Bugs! Exhibit Edition | of Whitewater™ Series | Ebook
Winter Bugs! Exhibit Edition
Photographer: Lisa Loucks Christenson
Author: Lisa Loucks Christenson 
Series: of Whitewater™
Format: Ebook
Genre: Non-fiction, Natural History

Insect documentary through one winter season in Whitewater Management Area of Altura, Minnesota

Lisa Loucks Christenson's Winter Bugs! Exhibit Edition is available now available as an e-book, and online class project (one of many of Lisa's natural history projects she wrote and developed for education, classrooms). A documentary featuring the lives of insects during a Minnesota Winter. Lisa's Winter Bug Exhibit has been featured in local media, exhibited at the National Eagle Center and her art galleries.

Winter Bugs! Exhibit Edition by Lisa Loucks Christenson

A documentary filmed and photographed in the Whitewater Management Area on the land where the former town of Beaver, Minnesota once stood. A real Minnesota ghost town now shrouded by insects and wildlife who live and die each year, but as this books shows, death doesn't always come during winter.

Winter Bugs! Exhibit Edition features close-up images of insects, spiders, and caterpillars, most of the subjects photographed were smaller than a grain of sand.

Coming in 2018: Winter Bugs! Teacher's Guide and class projects by Lisa Loucks Christenson.




---
---
More from this collection
Copyright © 1972-2023 Lisa Loucks-Christenson. All Rights Reserved Bow Wow Detectives™, Bow Wow Detectives Agency™, A Bow Wow Detectives Cozy™, Bow Wow Detectives Case Files™ are established legal trademarks with multipile bestselling and award-winning titles. Lisa Loucks-Christenson holds the copyrights and is the original creator of these brands, characters, and series; developed in 2005 and used in commerce since 2009. Published by special arrangement with various publishers, and Story Antics®, an Australian registerd trademark owned by Lisa Loucks-Christenson. ALL RIGHTS RESERVED. There are underlying copyright interests in the various works of authorship associated with this registered trademark. Bow Wow Detectives, is a legal trademark.