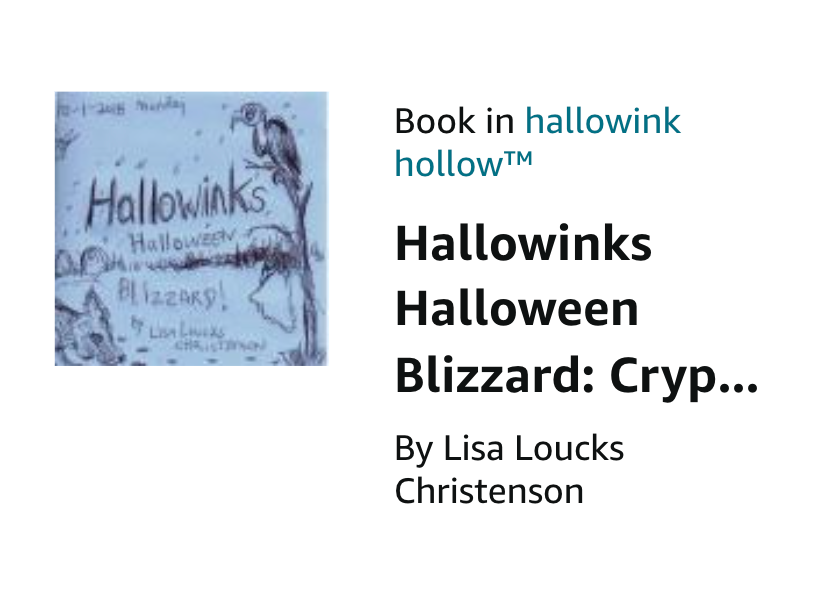 Hallowink's Halloween Blizzard! Hallowink Hollow™ An Original Comic by Lisa Loucks-Christenson Sold Exclusively at Lisa Loucks-Christenson stores
Peacock Books_ASIN: B07K1YNHGW
Hallowink Hollow™
A Hallowink Hollow Halloween Blizzard!
An Original Comic by Lisa Loucks-Christenson
Sold Exclusively at Lisa Loucks-Christenson stores
While flying home to Hallowink Hollow,  V-neck Vulture is caught in a  blizzard and is lost in a land called Cryptid Hideout. He meets all sorts of cryptids, but wonders if he'll ever find his way out.  
Will V-neck find his exit plan and make his flight home by Halloween?
One things for sure: V-neck will have some creepy stories  to share with the Hallowink. That is, if he can  find a way to escape this adventure and find an exit from his 31-day-cryptid-hideout-horrorfest!
Exclusive Product (only sold at Lisa Loucks-Christenson stores)
This book had been a bestselling title on AMAZON. This product is no longer sold on Amazon.
Copyright © 2018 Lisa Loucks-Christenson All Rights Reserved
---
---
More from this collection
Copyright © 1972-2023 Lisa Loucks-Christenson. All Rights Reserved Bow Wow Detectives™, Bow Wow Detectives Agency™, A Bow Wow Detectives Cozy™, Bow Wow Detectives Case Files™ are established legal trademarks with multipile bestselling and award-winning titles. Lisa Loucks-Christenson holds the copyrights and is the original creator of these brands, characters, and series; developed in 2005 and used in commerce since 2009. Published by special arrangement with various publishers, and Story Antics®, an Australian registerd trademark owned by Lisa Loucks-Christenson. ALL RIGHTS RESERVED. There are underlying copyright interests in the various works of authorship associated with this registered trademark. Bow Wow Detectives, is a legal trademark.