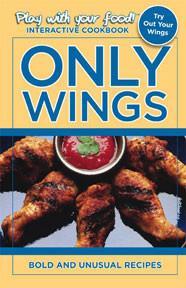 Only Wings | EBook
By Quentin Erickson
Wings are the most popular appetizer in restaurants across the nation. One nation restaurant franchise is dedicated (almost) solely to chicken wings, and virtually every Chinese buffet serves them. The interactive cookbook Only Wings: Bold and Unusual Recipes showcases recipes with intriguing and enticing flavor profiles including Tequila Chipotle Wings, Banana and Green Chilies Wings, Orange Marmalade and Honey Wings, Peanut Butter and Beer Wings, Plum Jam and Horseradish Wings, and Ginger and Garlic Wings. 
Be sure to check out the other Entrée Press interactive cookbook titles sold at Peacock Books & Wildlife Art, Shop #100, Galleria at University Square.
---
---
More from this collection
Copyright © 1972-2023 Lisa Loucks-Christenson. All Rights Reserved Bow Wow Detectives™, Bow Wow Detectives Agency™, A Bow Wow Detectives Cozy™, Bow Wow Detectives Case Files™ are established legal trademarks with multipile bestselling and award-winning titles. Lisa Loucks-Christenson holds the copyrights and is the original creator of these brands, characters, and series; developed in 2005 and used in commerce since 2009. Published by special arrangement with various publishers, and Story Antics®, an Australian registerd trademark owned by Lisa Loucks-Christenson. ALL RIGHTS RESERVED. There are underlying copyright interests in the various works of authorship associated with this registered trademark. Bow Wow Detectives, is a legal trademark.