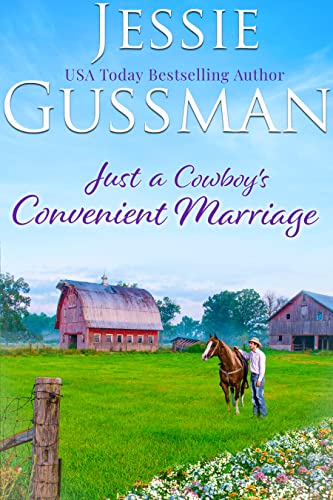 Just a Cowboy's Convenient Marriage, Book 1, Flyboys of Sweet Briar Ranch in North Dakota
Order the paperback at Peacock Books & Wildlife Art (888) 983-3085
USA Today Bestselling Author Jessie Gussman
Just a Cowboy's Convenient Marriage, Book 1, Flyboys of Sweet Briar Ranch in North Dakota
(Sweet western Christian romance book 1) (Flyboys of Sweet Briar Ranch in North Dakota) Kindle Edition

A man who lost everything.

A woman squatting on a property that's not hers.

An aunt who suggests a marriage of convenience.

When Smith Long strides into his new hometown, he doesn't expect to get bowled over by a woman chasing her cow whom she claims has fallen in love with a pig. Doesn't every small town have that one crazy person?

He's not laughing later, though, when his aunt informs him that in order for him to receive the old, rundown property she'd promised him, he has to marry the crazy woman he'd hoped to never see again.

Abrielle Adams is squatting on a ranch outside of Sweet Water, North Dakota and hoping that she'll get back on her feet before the heir shows up. Wishful thinking since she finds out that the man who'd kept her from catching her cow is the very person she was trying to avoid.

But now Abrielle has been offered the one thing she could really use - half ownership of the ranch she's been "borrowing" - and all she has to do is marry a (grumpy, sour, and okay, handsome) stranger.

To both Abrielle and Smith, marriage is more than convenience and a vow is a lifetime commitment. Will they see how much they have in common and decide they need each other?

Reviews for Just a Cowboy's Convenient Marriage:

★★★★★"As usual, I highlighted a lot of quotes and wrote them down to help me be a better person. The heroes have integrity, character and faith. Each book by Jessie Gussman helps me face my days and I try to react with the wisdom that her characters have in tough situations, it's a real help. I laughed a lot as well: the story is a romance but it's also really funny!" - Soleil

★★★★★ "I love Jessie Gussman's inventive meet cute in this book, and what these two incredible characters went through in order to create this marriage of convenience. I love how what started out as dislike turns into care and devotion. An inspirational read!" - Janet

★★★★★ "I found this book thought-provoking as well as entertaining, and look forward to future books in the series. Recommended." - Cathy

★★★★★ "Jessie Gussman has hit a homerun with this book. It has everything! Humor, sarcasm, manipulation, compromise and just a touch of romance." - Rhonda

★★★★★ "This book was fantastic from start to finish! I love how it gives marriage advice and Christian living advice as part of the story. While fiction, it makes one think about one's own behavior and actions. I loved how Arielle and Smith dealt with each other's situations and behaviors even when they didn't really know each other. A fantastic clean read. Jesse has done it again by writing a very fun book to read. It makes you laugh, surprises you, and holds your interest, all while having a great message! I can't wait to read the next one!" - Nancy


Books in the Flyboys of Sweet Briar Ranch in North Dakota Series:
Just a Cowboy's Convenient Marriage
Just a Cowboy's Best Friend
Just a Cowboy's Enemy
Just a Cowboy's Midnight Bride
Just a Cowboy's Love Story
Just a Cowboy's Secret Baby
Just a Cowboy's Shotgun Wedding
Just a Cowboy's Princess
Author Jess Gussman
USA Today best-selling author Jessie Gussman writes sweet and inspirational romance from her farm in central Virginia. Having attended, but never graduating from the school of hard knocks, Jessie uses real life on the farm to inspire her cowboy, rural and blue-collar fiction.
When she's not chasing kids, cows and the occasional roll-away haybale, Jessie enjoys wading in Naked Creek and not cleaning her house. Most of the time her main goal is to keep from catching herself on fire…again.
If you enjoy fun stories with vivid characters showcasing strong families with a ribbon of faith tying everything together, you might enjoy Jessie's books.
Listen to Jay Dyess perform Jessie's books - for FREE - on YouTube HERE: https://www.youtube.com/SaywithJay
Subscribe to her newsletter and find out why readers say, "I eagerly look forward to Tuesday mornings" and "Jessie's newsletter is the only author newsletter that I read every word." https://dl.bookfunnel.com/97elto4gwl
Thank you for visiting Jessie's page! Please Follow her profile for important updates. And thank you for your reviews!
---
---
More from this collection
Copyright © 1972-2023 Lisa Loucks-Christenson. All Rights Reserved Bow Wow Detectives™, Bow Wow Detectives Agency™, A Bow Wow Detectives Cozy™, Bow Wow Detectives Case Files™ are established legal trademarks with multipile bestselling and award-winning titles. Lisa Loucks-Christenson holds the copyrights and is the original creator of these brands, characters, and series; developed in 2005 and used in commerce since 2009. Published by special arrangement with various publishers, and Story Antics®, an Australian registerd trademark owned by Lisa Loucks-Christenson. ALL RIGHTS RESERVED. There are underlying copyright interests in the various works of authorship associated with this registered trademark. Bow Wow Detectives, is a legal trademark.