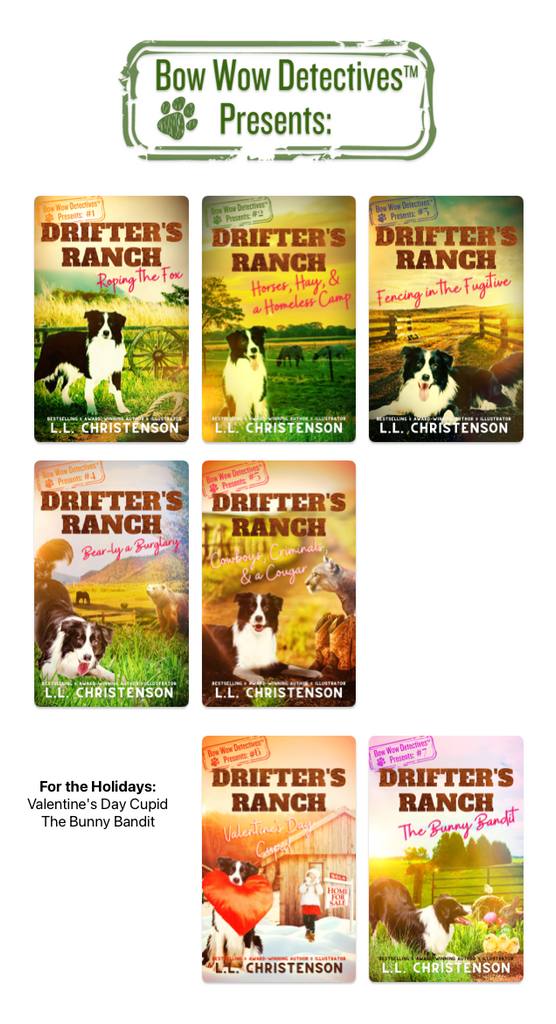 Drifter's Ranch™ Series
                      Drifter's Ranch™ Series 
From bestselling and award-winning author and illustrator of DON'T EAT BEES! , WOLVES OF WHITEWATER FALLS, HAWK OF WA PU TA CREEK, MODEL MAKER, NARROW PATHS and more, L.L. Christenson brings you DRIFTER"S RANCH, the life and journey of a wayward Border Collie who drifts into the lives of all those he meets; inspiring hope and a future in ways that only a dog, one with his own angelic direction, can.   

 Clean sweet books written and illustrated for Middle Grade, enjoyed by all ages.
Cover Designer: PremadeCoverDesigns
Sold exclusively through the Lisa Loucks-Christenson Network.
(888) 983-3085 Peacock Books & Wildlife Art 
Available in the USA

Hardcover: Planned Book Set for Schools & Library (USA)

Distribution Agreement Edition: Email
™= Bow Wow Detectives™, Drifter's Ranch are legal trademarks owned by Lisa Loucks-Christenson used in commerce for this book series that includes print and electronic books, and planned audio and film formats. They cannot be used in any way without express written permission by the copyright and trademark holder.  These books are available in the USA. Please report Piracy.                          
Copyright © 2023 Lisa Loucks-Christenson All Rights Reserved
---
---
More from this collection
Copyright © 1972-2023 Lisa Loucks-Christenson. All Rights Reserved Bow Wow Detectives™, Bow Wow Detectives Agency™, A Bow Wow Detectives Cozy™, Bow Wow Detectives Case Files™ are established legal trademarks with multipile bestselling and award-winning titles. Lisa Loucks-Christenson holds the copyrights and is the original creator of these brands, characters, and series; developed in 2005 and used in commerce since 2009. Published by special arrangement with various publishers, and Story Antics®, an Australian registerd trademark owned by Lisa Loucks-Christenson. ALL RIGHTS RESERVED. There are underlying copyright interests in the various works of authorship associated with this registered trademark. Bow Wow Detectives, is a legal trademark.