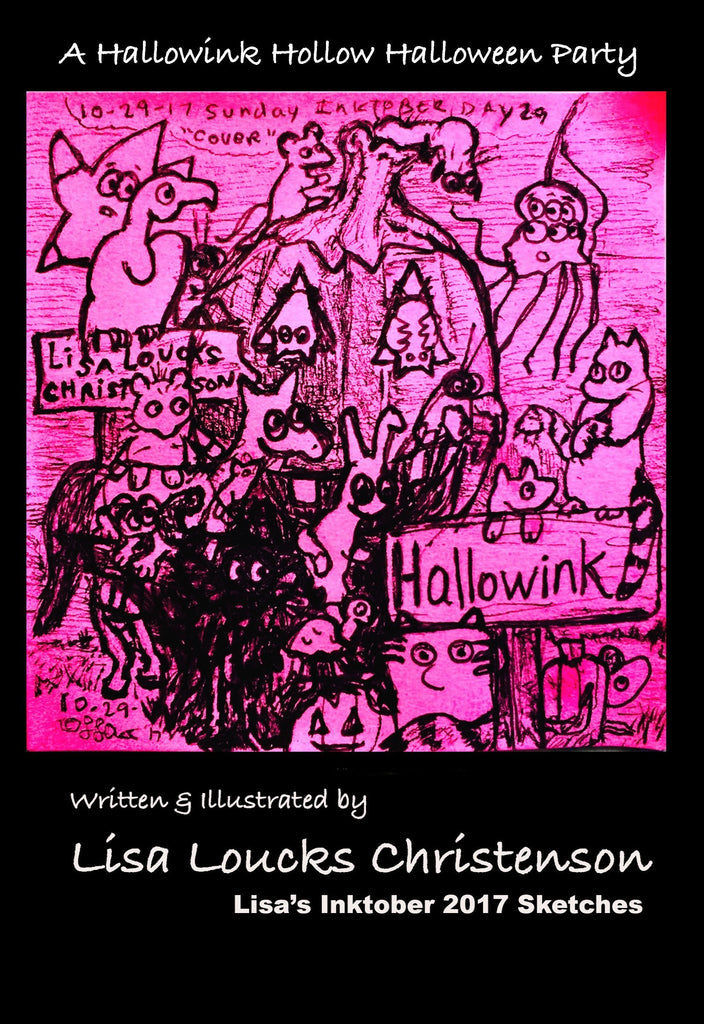 A Hallowink Hollow Halloween Party
Hallowing Hollow Series 
Serial Web Comic
#1 
Author and Illustrator: Lisa Loucks-Christenson
The Hallowinks are en route to their annual Halloween Hollow Halloween Party picking up new friends of all colors and species. While they travel into the woods and fields of Hallowink Hollow they discover the best part of their journey is celebrating the night with their new friends.
Lisa's Inktober 2017 sketches are a collection of artwork, one illustration per day during the month of October, that inspired the creation of her children's book series Hallowink Hollow™. The comic-style art  depicts various woodland and barnyard friends as they traveled along the new and unknown paths to attend their annual Halloween Party. Through these drawings, Lisa was able to bring Little Buck Usagi—a wild rabbit she had raised and released—back into her life in an unexpected way by giving him a lead role as the main character in this story.
Each sketch captured the beauty of friendship no matter what size or species; it is through these friendships that we can find joy even on our most difficult journeys. By using 3x3 sticky notes for each drawing, Lisa was able to create something truly special while also paying homage to her beloved wild rabbit who continues inspire us all with his courage and spirit.
---
Copyright © 1972-2023 Lisa Loucks-Christenson. All Rights Reserved Bow Wow Detectives™, Bow Wow Detectives Agency™, A Bow Wow Detectives Cozy™, Bow Wow Detectives Case Files™ are established legal trademarks with multipile bestselling and award-winning titles. Lisa Loucks-Christenson holds the copyrights and is the original creator of these brands, characters, and series; developed in 2005 and used in commerce since 2009. Published by special arrangement with various publishers, and Story Antics®, an Australian registerd trademark owned by Lisa Loucks-Christenson. ALL RIGHTS RESERVED. There are underlying copyright interests in the various works of authorship associated with this registered trademark. Bow Wow Detectives, is a legal trademark.