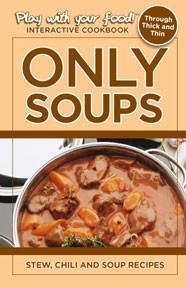 Only Soups | Ebook
By Quentin Erickson
The ONLY SOUPS: STEW, CHILI AND SOUP RECIPES Play with Your Food! interactive cookbook encourages you to find your personal cooking style, refine your palate, and have a lot more fun in the kitchen by: embracing ingredient substitution and experimentation developing flavor profiles that feature your preferences building perfect plates that showcase your talent. The ONLY SOUPS cookbook takes you on a journey through ingredient substitution, palate development, cooking method tips and tricks, kitchen and grilling safety information, and includes such silky recipes as Chicken, Peanut Butter and Curry Soup, Potato, Bacon, Onions and Beer Soup, Cream Of Garlic Soup, Black Bean Soup, Ham Hocks and Red Wine Soup, and Chili, Chicken and Coconut Soup.
Be sure to check out the other Entrée Press interactive cookbook titles sold at Peacock Books & Wildlife Art, Shop #100, Galleria at University Square.
---
---
More from this collection
Copyright © 1972-2023 Lisa Loucks-Christenson. All Rights Reserved Bow Wow Detectives™, Bow Wow Detectives Agency™, A Bow Wow Detectives Cozy™, Bow Wow Detectives Case Files™ are established legal trademarks with multipile bestselling and award-winning titles. Lisa Loucks-Christenson holds the copyrights and is the original creator of these brands, characters, and series; developed in 2005 and used in commerce since 2009. Published by special arrangement with various publishers, and Story Antics®, an Australian registerd trademark owned by Lisa Loucks-Christenson. ALL RIGHTS RESERVED. There are underlying copyright interests in the various works of authorship associated with this registered trademark. Bow Wow Detectives, is a legal trademark.