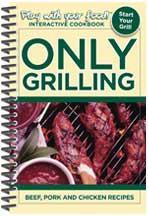 Only Grilling: Beef, Pork and Chicken Recipes | Paperback | Coil Binding
Only Grilling: Beef, Pork and Chicken Recipes
By Quentin Erickson
Fire up the grill! There is something primal about grilling food outdoors. The open air, the billowing fragrant smoke, the constant tending of the grill temperature, and the elaborate, almost ritual poking and prodding of the food. The Only Grilling: Beef, Pork and Chicken Recipes interactive cookbook includes such grill-ready recipes as Apricot-glazed Pork Chops, Blue Cheese and Butter Porterhouse Steak, Burgundy Sauce Filet Mignon, Parmesan and Red Pepper Sauce Chicken Wings, and Citrus and Teriyaki Chicken Breasts.
Be sure to check out the other Entrée Press interactive cookbook titles sold at Peacock Books & Wildlife Art, Shop #100, Galleria at University Square.
---
---
More from this collection
Copyright © 1972-2023 Lisa Loucks-Christenson. All Rights Reserved Bow Wow Detectives™, Bow Wow Detectives Agency™, A Bow Wow Detectives Cozy™, Bow Wow Detectives Case Files™ are established legal trademarks with multipile bestselling and award-winning titles. Lisa Loucks-Christenson holds the copyrights and is the original creator of these brands, characters, and series; developed in 2005 and used in commerce since 2009. Published by special arrangement with various publishers, and Story Antics®, an Australian registerd trademark owned by Lisa Loucks-Christenson. ALL RIGHTS RESERVED. There are underlying copyright interests in the various works of authorship associated with this registered trademark. Bow Wow Detectives, is a legal trademark.