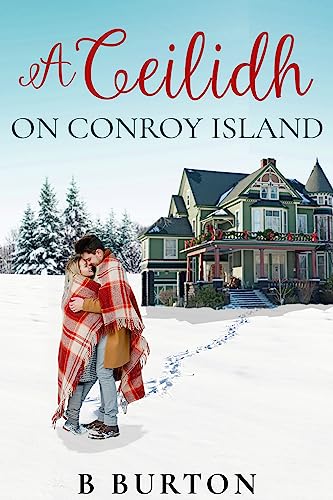 A Ceilidh on Conroy Island (The Conroy Island Series Book 1) Kindle Edition
A Ceilidh on Conroy Island (The Conroy Island Series Book 1)

 
 Paperback Edition Sold at Amazon and Peacock Books - call to order (888) 983-3085
Clean & Wholesome. No swearing or intimate scenes. PG-Rated Romance.
Claire returns home to Conroy Island seeking a brief winter break from her big city life. Two years working hard on her nursing degree has left no time for romance...not that any man could meet the bar Grant Conroy unwittingly set in her heart. The closer she gets to her dreams, the farther she seems to get from home and the love she's always wanted.
Big city graphic designer Grant has returned to Conroy Island to help look after his sick mother. While nobody knows her prognosis, he knows it's only a matter of time before their private family pain becomes very public knowledge. He's looking for a break from his family drama, from living in Boston, and from the fact he can't find a woman who makes his heart race...aside from Claire.
When they both volunteer to help with the Conroy Alight project, Claire and Grant discover that their attraction for one another is still off the charts. They're only home for a week and as the days race by, it becomes harder and harder to imagine saying goodbye. Will Claire's studies on the mainland keep them from being together? Will Grant's family obligations rule out a happily ever after? Is this just a holiday romance, or are they teetering on the edge of something utterly incredible?
Please be advised this novella is Book 1 in a trilogy, so it does not stand alone.
---
---
More from this collection
Copyright © 1972-2023 Lisa Loucks-Christenson. All Rights Reserved Bow Wow Detectives™, Bow Wow Detectives Agency™, A Bow Wow Detectives Cozy™, Bow Wow Detectives Case Files™ are established legal trademarks with multipile bestselling and award-winning titles. Lisa Loucks-Christenson holds the copyrights and is the original creator of these brands, characters, and series; developed in 2005 and used in commerce since 2009. Published by special arrangement with various publishers, and Story Antics®, an Australian registerd trademark owned by Lisa Loucks-Christenson. ALL RIGHTS RESERVED. There are underlying copyright interests in the various works of authorship associated with this registered trademark. Bow Wow Detectives, is a legal trademark.