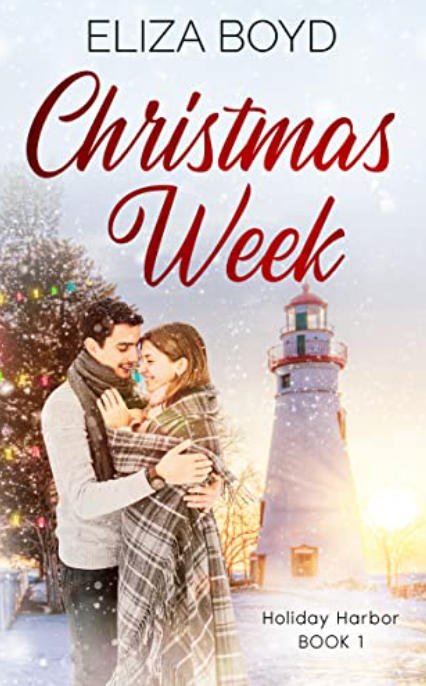 Christmas Week, Book One, Holiday Harbor
She's a single mom with deep roots. He's a travel writer who's never in one place for long. Is there any hope for their romance this Christmas?

Sophie Springer has revived Christmas Week in Holiday Harbor, her late husband's hometown. She wants her son to experience what his father did when he was a kid. It's been a lot of work, but she's happy to do it. And she jumps at the chance to spread the word in Wander and Journey Magazine when they offer to write an article about it.

Thomas Hall hasn't spent a holiday with his family for the last six years. As a travel writer, he's never in the States for Christmas. But this year, his boss is sending him to Holiday Harbor for his next assignment, which happens to be where his sister lives.

Sophie and Thomas start off on the wrong foot, but they need to spend the week together for the article. Will they be able to get along? Or by the grace of God, is romantic Christmas magic floating in the air in Holiday Harbor?

Holiday Harbor is a clean Christian romance series about Christmas each year in sleepy small-town Maine. Read along as God's miracles (with a splash of Christmas magic) bring couples and families together through trials, faith, and the Christmas spirit. The hot chocolate is rich, the sweaters are cozy, and the romance is as sweet as it is satisfying.
Paperback - pickup in the store
Ebook: https://www.amazon.com/gp/product/B0C6HFRH81
---
---
More from this collection
Copyright © 1972-2023 Lisa Loucks-Christenson. All Rights Reserved Bow Wow Detectives™, Bow Wow Detectives Agency™, A Bow Wow Detectives Cozy™, Bow Wow Detectives Case Files™ are established legal trademarks with multipile bestselling and award-winning titles. Lisa Loucks-Christenson holds the copyrights and is the original creator of these brands, characters, and series; developed in 2005 and used in commerce since 2009. Published by special arrangement with various publishers, and Story Antics®, an Australian registerd trademark owned by Lisa Loucks-Christenson. ALL RIGHTS RESERVED. There are underlying copyright interests in the various works of authorship associated with this registered trademark. Bow Wow Detectives, is a legal trademark.